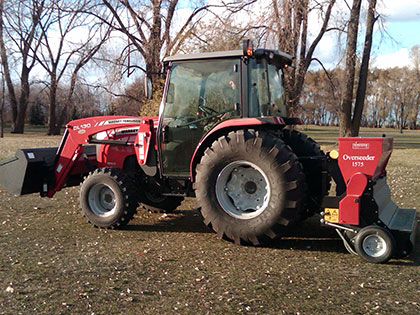 Now offering Over Seeding on Golf Courses, Sports Fields and Parks.
We use the best performing and most versatile overseeder available on the market giving you the best stand of grass with the least disruption to your playing surface.
We have a Redexim 1575 overseeder that has proven results all around the world and at golf courses and sports fields here in Manitoba.
Benefits of the Redexim seeder:
Seed is planted in the ground and not affected by wind - increased germination
Follows undulations in ground without missing. No bare areas when seed grows through.
Reseed during playing season with little or no disruption.
Overseeding can renovate a warn or damaged area, increase turf grass density, or alter the species composition of sward.
With a working speed of up to 9 miles per hour, the OverSeeder is capable of re-seeding a football field or golf course fairway in minutes.
Boasting a tight spacing less than 3 inches, each seed coulter is individually suspended and accurately follows terrain.
With its innovative unequal disc slitting system, the OverSeeder actually plants the seed firmly in the ground, providing outstanding seed to soil contact and providing unmatched germination.